Milton Lim/Hong Kong Exile (Vancouver, BC): okay.odd.
Multimedia/Theater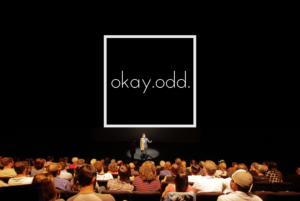 okay.odd. is a multimedia meditation session centered around facilitating a stream of consciousness encounter through use of associative language and image. Based on the tenets of concentration, mindfulness, contemplation, and visualization, okay.odd. exists between thought and perception; knowing and unknowing; real and imagined. Breathe. Don't think.
BIO
Hong Kong Exile is a Vancouver-based interdisciplinary arts company comprising of three artists: director/performer, Milton Lim; choreographer/dancer, Natalie Tin Yin Gan; and composer/media artist, Remy Siu. HKX strives to push the boundaries of interdisciplinary process and creation. As members of the Chinese diaspora, they investigate cultural politics in an era of globalization, and have created thirteen original works since 2011. Company highlights include an inaugural five-month residency at New Westminster's River Market, Hive: NEW BEES 3, CanAsian Kickstart Festival in Toronto, CanAsian International Dance Festival, Seattle International Dance Festival, Dancing on the Edge Festival, and Gateway Pacific Theatre Festival.
PERFORMANCE SYNOPSIS
Part spiritual retreat and part commentary on our image-inundated affect-obsessed society, okay.odd. is an invitation to encounter the version of you that you feel, but do not know. okay.odd. engages with the topic of curiosity by loosely borrowing the form of a meditation session using recorded text, eventually spring-boarding into stream-of-consciousness word association via projection and persistent rhythmic sound. Outwardly, the use of projected text in the piece is an exercise in duration, attempting to track and presume a certain train of thought that audience members may be having as they move from word to word. However, the secondary and more significant goal is to inundate observers with associative weight, leaving them with an overwhelming awareness of their subconscious thought and beliefs about how they situate themselves in local/global contexts, and why. This allows the piece to bring up socio-political perceptions around race, ethnicity, privilege, gender, sexual orientation, representation, history, and general otherness, without distilling the whole piece to any singular discussion point. The project was born out of a desire to experiment with delivery of content that would normally illicit association and tangential thought, but at a frequency that is implicitly felt, rather than cognitively activated.
VIEW VIDEO SAMPLES OF HKX'S UPCOMING WORK