SNKR (Portland, OR)
Sound/Video/Movement/Performance Art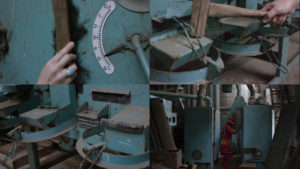 Against a backdrop of architectural video and location sound, Rauer moves, taps and interacts with microphones and found objects. Sitting onstage, Nehil treats the live sound and triggers samples of scratchy LPs. Actions are mirrored between past and present, sounding in remote sites and the space of the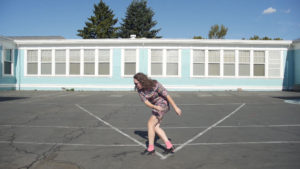 stage.
BIO
Seth Nehil is a composer, video artist and performance-maker. His distinctive sound pieces feature manipulated acoustic recordings, voice and granular synthesis in unlikely combinations. He has created original scores and sound designs for dance and theater productions, has directed large-scale performance pieces and has released over 15 albums of experimental music on international labels. Seth currently teaches sound and video at the Pacific NW College of Art, among other schools.
Kelly Rauer merges video and movement studies to form large-scale, multi-channel video installations where the body serves as the main subject, object and device. Intimacy and proximity are guiding principles that shape the way she approaches, frames, deconstructs and reconstructs an experience of the body. These video installations are highly planned and choreographed experiences, typically designed to immerse the viewer in uncommon perspectives of the body and its movement not possible in a live performance context or in our day-to-day social interactions.
PERFORMANCE SYNOPSIS
SNKR is the duo of sound/video artist Seth Nehil with video/movement artist Kelly Rauer. In performance, they bring together video, sound and movement; Dance is a form of sound-making, and making sound is a way of interacting with places. We sent impulses into schoolyards and rail yards, we created feedback inside Portland's oldest building, and we explored angles inside a semi-abandoned Soviet-era grain mill in Southern Estonia. In performance, we layer action on action and sound on sound. Kelly is swinging and coiling microphone cables, dragging and rubbing the mics, exploring the simple sounds of paper, wood and metal. She reflects and contrasts with her former self, which is multiplied on the large screen at the back of the stage. A raking light focuses her concentrated body-listening in front of the projected image. Seth is watching, changing and adding in the moment, twisting knobs and triggering digital sounds. SNKR finds an intersection of movement as sound-making and sound-making as movement.
VIEW A VIDEO SAMPLE OF SNKR'S PREVIOUS WORK
CHECK OUT ANOTHER VIDEO SAMPLE OF SNKR'S WORK