Angel "Moonyeka" Alviar-Langley (Seattle, WA): In the White Frame
dance/street styles/popping/digital art/experimental media/freestyle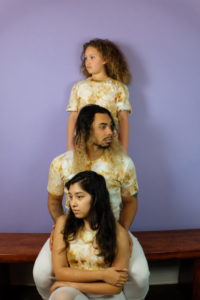 Featuring vignettes on mixed-race experience, Moonyeka and her team of Seattle-based dancers and designers bring their show, In the White Frame, which has previously existed as a live installation but will be transformed into a performance on stage for the Portland premiere of this work. In the White Frame explores the multi-racial experience in "post-racial" America. Read on!
PERFORMANCE SYNOPSIS
In the White Frame is inspired by Sharon H. Chang's book Raising Mixed Race. Using her book as a resource, Moonyeka and dancers will explore mixed race folks' experience in a post racial world, while also specifically looking at Joe R. Feagin's theory of white racial framing. White racial framing is when people ask mixed folks, or even non-mixed folks, "What are you? Where are you from? No really, where are you from?" This is people trying to figure out where someone lands on the black or white binary of race. In the White Frame also seeks to complicate the ugly/pretty, superhuman, mutt, "mixed people will end racism!," 1-drop rule narratives of mixed race people. It will include black, indigenous, young, queer, and femme voices since this work would not be authentic or accurate without honoring their voices. Moonyeka and dancers dare ask the question, "is the racial discourse inclusive of our experiences? is it erasing us? are we (as mixed people) allowed to reject the racial framework being used today?"
Featuring dancers El Nyberg, Michael O'Neal Jr., Alyza DelPan-Monley, Bria Calhougn-Anderson, and Estrella Gonzalez. Ravella Riffenburg: Light Design + Nic Masangkay: Sound Design.
BIO
Angel Alviar-Langley (aka Moonyeka) is a sick and disabled queer Filipinx femme street-styles dancer who utilizes art creation and organizing to realize a more inclusive and intersectional world for the communities she comes from. Her current projects for 2018 include expanding WHAT'S POPPIN' LADIEZ?! into a mentorship program for young brown femmes of color, and so much more! Moonyeka is also a choreographer and dancer of Au Collective – a dance collective that puts women, queer folks, and POC at the forefront. When not battling, Angel is a teaching artist for Arts Corps + Spectrum Dance Theater, helps runs an open dance session (VIBE) for immigrant youth at Yesler Terrace, and coaches LIL BROWN GIRLS CLUB. As a team member of Moksha, a Seattle art space and local boutique owned by Karleen Ilagan and Robin Guilfoil, Moonyeka expands her artistry outside of dance by supporting Moksha's mission to foster the next generation of Seattle artists through event curation and creative direction. Moonyeka is a DANCE CRUSH selected by Seattle Dances, the 2017 Tina La Padula Fellowship recipient, Ubunye Project 2017 contributor, Mary Gates Leadership awardee and George Newsome Humanitarian scholar.
BUY TICKETS TO THIS YEAR"S FESTIVAL