WAYNE BUND (PORTLAND, OR) – Strong Female Protagonist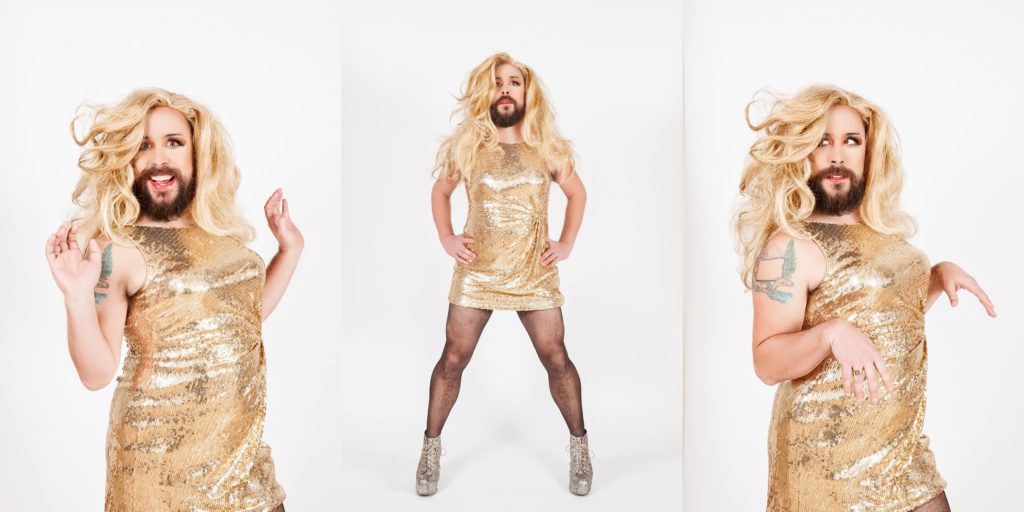 Photo by Sean Johnson.
Since Feyonce's Risk/Reward Festival premiere in 2013, we've been anticipating the next time we'd see that fiery, fierce, bold beauty back on a Risk/Reward stage. In partnership with PNCA, and through a well-deserved 2017 RACC grant, Feyonce is bringing her sass BACK with a brand new piece about love, loss, and female power.
BIO
Wayne Bund is a visual artist, performer, writer, and educator living in Portland, OR. His multi-discipline practice includes photography, performance, video, painting, and playwriting. His works and performances have been exhibited nationally and internationally at venues such as Seattle Art Museum, On the Boards, and Gage Academy of Art in Seattle, the Ludlow Festival in the UK, SOMarts in San Francisco, and Risk/Reward Festival of New Performance, Portland Institute for Contemporary Art, the Q-Center, Pacific Northwest College of Art, East End, PLACE PDX Gallery, and Cock Gallery in Portland. Bund's practice has received attention in print and online from Bad at Sports, The Oregonian, Willamette Week, The Stranger, Artforum, Be Portland, and Portland Monthly. He has taught classes at Pacific Northwest College of Art, and the Independent Publishing Resource Center in Portland, and the Sitka Center for Art and Ecology in Otis. He has received grants from the Ford Family Foundation, WESTAF Foundation, the Oregon Arts Commission, and the Regional Arts and Culture Council. He served with Teach for America from 2004-2006, and is a 1999 Ford Family Foundation Scholar. He currently works as a 1st Grade Teacher in Portland.
PERFORMANCE SYNOPSIS
Strong Female Protagonist is a comedic, queer solo performance that prioritizes the power of femininity and sass. Little Wayne grows up wanting to be a pop diva, and when he grows up and becomes a drag queen called Feyonce, he struggles with self-doubt and is taken to an appropriation fantasy. He is judged by Judith Butler, his ego, and his mother until he lets go of his dreams and finds a new lineage. One part autobiography, one part 1980s nostalgia, one part drag fantasy, this queer solo performance celebrates the powerful feminine role models to which we all looked up.
 "undeniably fierce… challenged the spectrum of drag performance" – Lindsey Lux, BePortland
"chock full of everything" – Seattle Dances