Britt Karhoff (Seattle, WA): WONDER FULL
solo dance theatre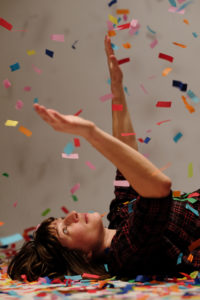 In her debut performance at Risk/Reward Festival, we welcome Britt Karhoff and her work WONDER FULL, a solo dance theatre performance that uses tedious one-sided phone conversations and flashy party favors to grapple with a necessary late-term abortion for a much-wanted pregnancy.
PERFORMANCE SYNOPSIS
Fragments of a narrative arc are slowly revealed, inviting audiences to reflect on the role we play when loved ones experience loss. While searching for clues, they are invited to place themselves in the narrative. Text and song lyrics are sourced from phone calls with Britt's mother, #shoutyourabortion rhetoric, and surveys sent to women on their experiences of fulfillment. A self-contained, largely geometric set is built and broken down by Britt herself—a nod to self-sufficiency and the load women bear. The dance movement begins tethered to a table center stage, developing into a stationary sprint that finally becomes celebratory among mountains of released confetti.
BIO
Britt Karhoff's (Choreographer and Performer) work has been presented in Seattle at Velocity Dance Center, On the Boards, Behind the Pink Door, NEPO 5K and at the Joe Goode Annex in San Francisco. She has performed locally, nationally and internationally on stages, in historic buildings and on the sides of skyscrapers with artists and companies including Project Bandaloop, Joe Goode Performance Group, Flyaway Productions, zoe | juniper, KT Niehoff, Shannon Stewart, Coleman Pester, Anna Conner, Alice Gosti, Kim Lusk and Kaitlin McCarthy among many others.
BUY TICKETS TO THIS YEAR'S FESTIVAL