Cheryl Delostrinos/Au Collective (Seattle, WA):
Bayanihan: A Collection of Physical Tales
dance movement, physical storytelling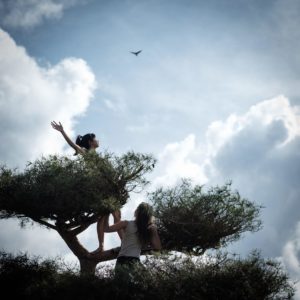 Bayanihan explores the lives of six individuals, taking the audience on a journey of failure and triumph from the perspectives of young artists from diverse dance and cultural back grounds. Representing the intersectionality of immigrant, queer, trans, and POC, Bayanihan turns real life stories into modern day myths. We are so excited to welcome Cheryl and the Au Collective to Risk/Reward Festival for the first time!
PERFORMANCE SYNOPSIS
Bayanihan is a tagalog word used to describe the physical representation of the spirit of community. Bayanihan: A Collection of Physical Tales is created as a structure that explores the stories of each member in a community. The work is a physical interpretation of the ways we, as intersectional dance artists from the PNW, have learned to support one another in our journey of realizing our true selves in order to survive. We will use storytelling as a way for us to heal and take ownership over the world that we want to live in, a world that we create where all parts can move, evolve, and exist together.
The audience will be taken on a journey through five different worlds. Each section is no longer than four minutes, allowing the audience to experience five different environments with six different storytellers. The work resembles a physical chapter book. We are inspired by popular music and music with rhythmic patterns, validating all styles of movement, high fashion, the freedom to show emotion or not, audience/ crowd participation, self care, feeling beautiful, the communities we come from, and the power to speak our truths to an audience that wants to hear them. It is important that we are intentional about not filtering or changing our cultural identities as young artists of color in a predominately euro-centric art form.
BIO
Cheryl Delostrinos is a Filipinx American born and raised in Seattle. She is the Artistic Director and a co-founders of Au Collective. Cheryl began her training at Kathy's Studio of Dance, The Pacific Northwest Ballet, and Cornish College of the Arts. She has had the privilege of studying with the American Ballet Theater, ADF, Alonzo King Lines Ballet, Doug Varone and Dancers, and the Alvin Ailey School. In 2013, she graduated with a B.A in Dance from the UW and was awarded the Evelyn H. Green endowed scholarship for artistic merit and promise. Cheryl has been commissioned to present work for The CHIN Project at the 92nd st Y, the UW's 50th Anniversary Celebration, NW New Works, Mighty Tieton Block Party, Out of Sight, SAM Remix, BRD Groundworks, Nikkita Oliver's campaign party, Beacon Hill Block Party, Borderlands hosted by the Office of Arts and Culture, and API Chaya. Delostrinos is a movement educator at SAAS, Yesler Terrace Community Center, Coyote Central, Remix, and Arts Corp. She is passionate about art and social justice as a tool to set up a platform for marginalized youth to empower themselves and become the future leaders of this world.
Au Collective creates accessible platforms for underrepresented communities while disrupting the symptoms of systemic oppression that exist in dance spaces. Our mission is to embody a safe, intersectional, and equitable culture where art is a vehicle for radical transformation.
BUY TICKETS TO THIS YEAR"S FESTIVAL