Artist Profile: Kelly Nesbitt
Kelly Nesbitt (Portland, OR): PENNY – THE CONDUIT
performance art film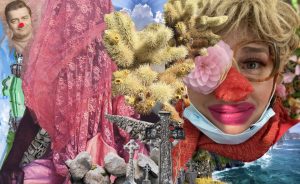 We are thrilled to bring Kelly Nesbitt's humorous and touching film, Penny – The Conduit, to Portland audiences and beyond.
PERFORMANCE SYNOPSIS
PENNY expresses our collective grief and despair, yet exemplifies the unquenchable hope that lies deeper in the human heart. Death, mourning, and healing are overt themes of this piece, as exemplified by Penny's awkward yet earnest commitment to meditation, nature worship, and conversations with a radically different kind of deity.
BIO
KELLY NESBITT is a multi-disciplinary performance artist, midlife warrior, and frontline healthcare worker who plays at the intersection of humor and healing. With extensive training in the field of humor, Nesbitt has been awarded grants for the creation of solo and interdisciplinary ensemble performances, toured internationally, and collaboratively produced numerous DIY community arts events since 1999. 
Inspired by nature, contemplative arts, practice and technique ~ Nesbitt is a body based storyteller who embodies the archetype of the fool, juxtaposes absurdities with sincerity, pathos with surreal-humor, and pratfalls with sincerity. Performance aesthetics employ recycled layered costuming, makeshift props, and superhero motifs. Video work experiments with raw facial close ups and lowbrow video editing techniques for comedic effect. Audience members have described their performances as transcendentalist hilarity, utterly inexplicable, and earnestly epic.
MAD COMPOSER LAB, aka Kennedy, is an innovative and versatile composer whose imaginative music captures beauty, bursts of melodic and rhythmic energy. His compositional vocabulary is sought after by many collaborators who seek authentic but familiar sonorities. Kennedy's scores can be found in a number of studio and independent productions including At The End of The Tunnel, Sightings, and This Is Us. In addition to composing, Kennedy's orchestrations and arrangements can be found in films such as Deliver Us From Evil (Screen Gems), The Monkey King, Priest (Screen Gems), and Drag Me to Hell (Universal). 
His concert repertoire includes String Adagio no. 6, Western Sketches for Orchestra, Songs of the Seasons, 5 is Prime : 4 is Magic, and numerous experimental works for combinations of traditional instruments and ones created by Kennedy at the Mad Composer Lab.
BUY TICKETS TO THIS YEAR'S FESTIVAL