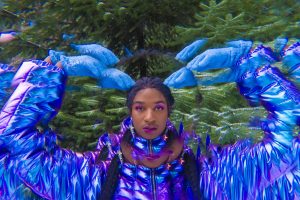 Artist Profile: Princess Bouton
Princess Bouton (Portland, OR): First Laugh
dance film
Princess Bouton previously graced the Risk/Reward stage in 2018 with her dance piece Planet Pink, bringing a mix of modern dance, vogue, and contemporary performance elements in a dreamlike landscape that we are still thinking about three years later. Welcome back to the festival, Princess!
PERFORMANCE SYNOPSIS
On January 6, 2021, Princess Bouton got the keys to her own production space, Last Laugh Studios. These are a few of the first projects she produced in the space; Her first laughs at Last Laugh.
BIO
Princess Bouton (she/her) is a Black Transfeminine freelance filmmaker and performance artist based in Portland, Oregon. She graduated from the Portland State University Film Program in the spring of 2020. Her work often incorporates movement art and explores topics of intersectionality and pleasure activism.  She has a dance background that includes modern dance, ballet, and vogue and she creates from a place that draws from each form. Princess Bouton is also a community builder and organizer in the Portland Kiki ballroom scene and is the princess of the kiki House Of Flora. The QTPOC models seen in her work are often individuals from her local queer community, who she invites to be highlighted and celebrated.
SUPPORT PRINCESS BOUTON ON PATREON
BUY TICKETS TO THIS YEAR'S FESTIVAL