James Mapes – Fly Paper Games (Portland, OR): Confluence
Interactive Installation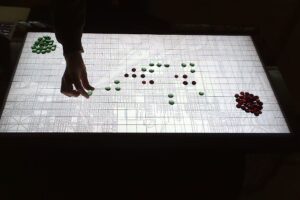 Designer James Mapes' large-format table-top video game will engage audiences in team play in the theatre lobby.
PERFORMANCE SYNOPSIS
In this interactive installation, Risk/Reward audiences will compete piece-by-piece to build the city of Portland on a giant, digital game board.
BIO
James Mapes is a lighting designer, writer, and board game designer based in Portland, Oregon. He has worked with BodyVox, Oregon Children's Theatre, Portland State University, Reed College, Oregon Ballet Theatre, and – of course – Risk/Reward, all the way since the Someday Lounge. He has been the technical direector for festivals including Portland Playhouse's Fall Festival of Shakespeare and numerous venues for PICA's Time-Based Arts festival. He has toured the world. In 2015, he published his first board game via Kickstarter, Saga of a Dying World, and is eager to connect the fine arts with interactive, multimedia experiences. He has a family; they are great.
CREDITS
DESIGNER: James Mapes
VISIT THE FLY PAPER GAMES WEBSITE
BUY TICKETS TO THIS YEAR'S FESTIVAL