Roman Norfleet & Be Present Art Group (Portland, OR): Death's Door NOW!
Musical Performance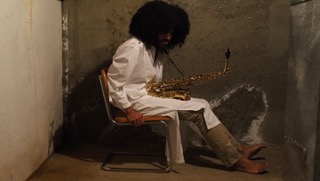 Through musical improvisation, Roman Norfleet creates space for reflection, healing, seeking and mystery.
PERFORMANCE SYNOPSIS
Death's Door NOW! is a musical performance piece exploring the concept of death and what comes after it. The compositions, visuals and wearable art of this piece express not only my personal journey, but what I've learned from others' processes when it comes to dealing with and understanding death.
BIO
Roman Norfleet is a musical/visual artist originally hailing from Joliet, Illinois and has been surrounded by and involved in music and arts since a child. Over the last 12 years Roman has lived in Los Angeles, California and the DMV area expanding his art form and exploring different territories of music. Roman has released 2 devotional, mantra based projects and an instrumental (or beat tape) project. Now living in Portland, Oregon, Norfleet seeks to continue that artistic, expressive expansion by incorporating visual and performance art into his musical compositions to manifest creative spaces lead by the idea of "being present".
CREDITS
Roman Norfleet: Performer, Musician
Brown Calvin: Musician
Jacque Hammond: Musician
VISIT ROMAN NORFLEET'S WEBSITE
VIEW AN EXCERPT OF THE PERFORMANCE
BUY TICKETS TO THIS YEAR'S FESTIVAL