Wade Madsen & Nancy Cranbourne (Seattle, WA): This Is It or Mandy Wakes Up
Movement Theatre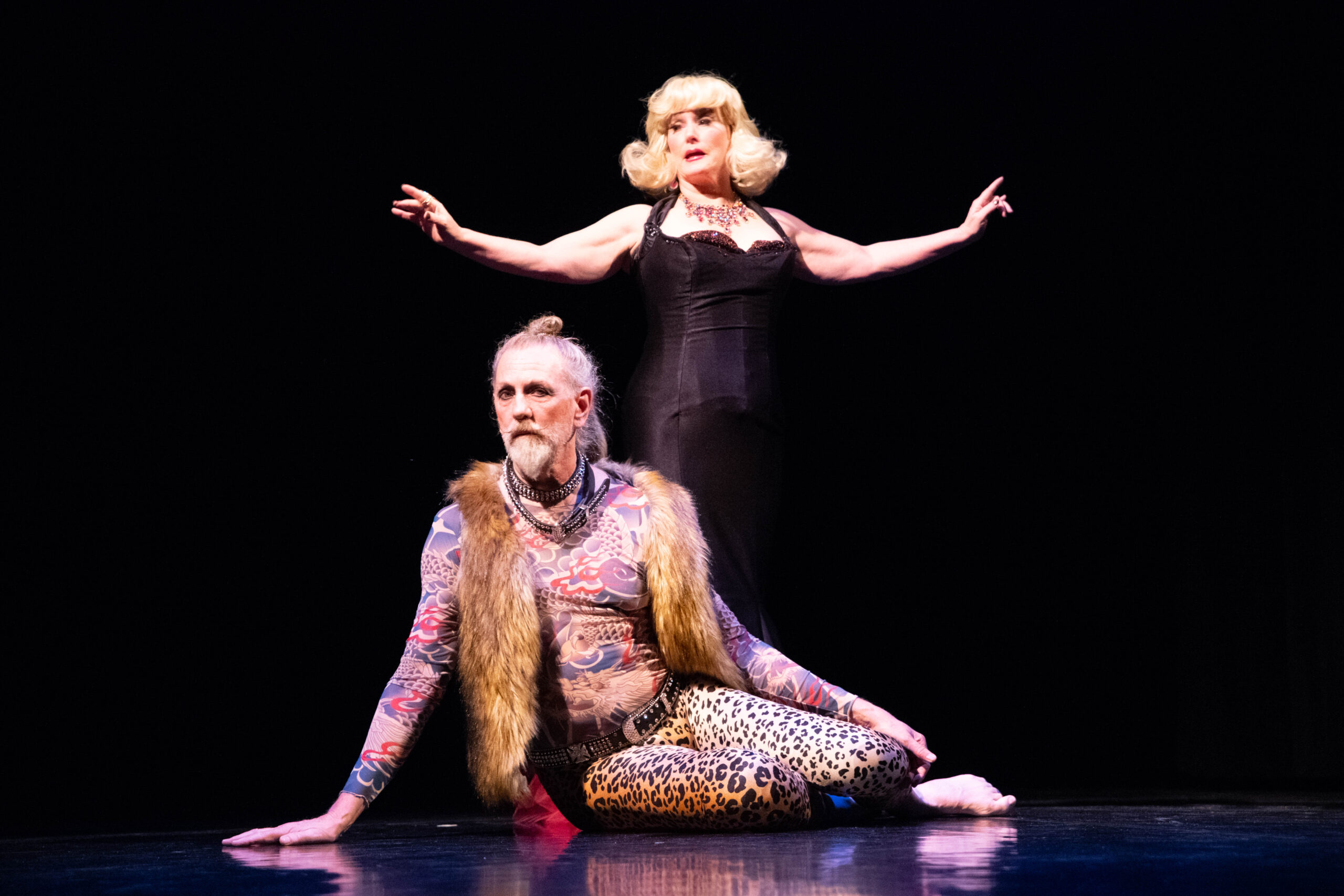 Performers Wade Madsen and Nancy Cranbourne have created a heady, dark comedy animated by subtle physical antics, quirky language and a mysterious third character.
PERFORMANCE SYNOPSIS
"This is It" is an original creation of Wade Madsen inspired by Wade's long Performing relationship with partner Nancy Cranbourne, his love of absurdist theater, philosophical meanderings, foreign films and the continuing questions about life, death and the power of art: What is life? Is it performance? Are we all on stage? We follow these two, and realize that maybe 'Bebe' has more to do with the inner workings of 'Mandy's', ego or her higher self. They communicate, but only 'Mandy' can understand 'Bebe' toward her own understanding of a universal human truth.
BIO
Wade Madsen, a professor of Dance at Cornish college of the Arts, toured with Tandy Beal, Bill Evans and Dayna Hanson. Madsen has created over 180 works and has premiered many of them for the Cornish dance company since joining the faculty in 1984. For the fall of 2018 Madsen presented in the newly created Solo festival at On the Boards. Madsen has had various commissions throughout the United States and into Mexico. He has received various grants and fellowships from the NEA, Artist trust, 4 Culture, Seattle arts commission, and Bosak Heilbron.
Nancy Cranbourne is the Owner/Director of One Big Yes Productions, based in Boulder, Colorado. OBY has produced many large scale dance & theater productions over the past 25 years. She is a master teacher in contemporary jazz dance, and specializes in lovingly deepening the development of dancers over forty. Nancy has served on the dance faculties of the University of Washington, Cornish College of the Arts, the University of Colorado, Colorado State University, and the National Theater Conservatory @the Denver Center for the Arts. Nancy is also an award winning playwright and actress, receiving honors from the Denver Drama Critics Circle, Boulder Museum of Contemporary Art, and Westword Magazine.
CREDITS
Performers
Wade Madsen: Bebe
Nancy Cranbourne: Mandy
Eric Pitsenbarger: stage hand
Written and Directed by Wade Madsen
CHECK OUT A PREVIEW OF THIS IS IT
BUY TICKETS TO THIS YEAR'S FESTIVAL