Cherdonna Shinatra – Worth My Salt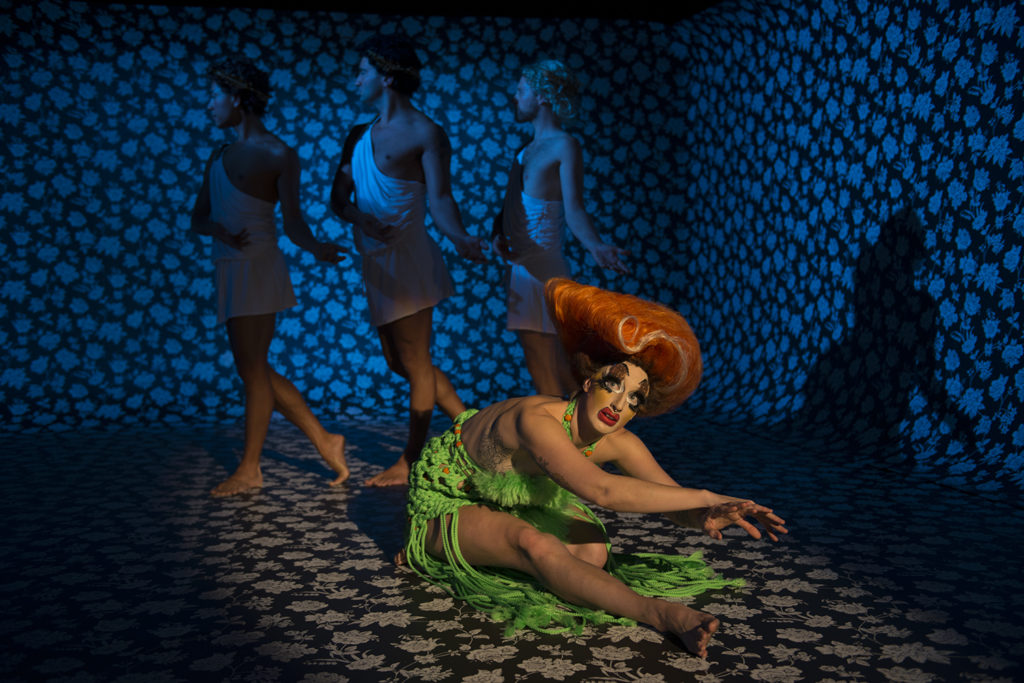 We're thrilled to welcome Cherdonna Shinatra back to Portland!
Cherdonna burst into the Risk/Reward hall of fame at our 2010 Festival of New Performance with Lou Henry Hoover and The Cherdonna and Lou Show. The duo brought down the house with the wildly entertaining IT'S A SALON! and our audiences have been clamoring for more ever since. Cherdonna occupies a unique space between contemporary dance, drag, clown, and performance art – just the type of uncategorizable goodness that Risk/Reward stands for. We can't wait to reconnect Portland with Cherdonna and her full-length debut, WORTH MY SALT.
BIO
JODY KUEHNER is a Seattle-based dance artist, director, and drag queen CHERDONNA SHINATRA. Cherdonna takes what you recognize about dance, what you believe about drag, what intrigues you about improvisation and what delights you about entertainment, effortlessly tosses it in a mason jar, shakes it up, and opens the lid. Cherdonna exists between dimensions and quantum shifts in time through everyday objects and emotions. While she provides a brightly decorated avenue to explore and question what is "normal", she remains a child, innocent of rancor. Cherdonna is aggressively sweet. She is always seeking (even while struggling), what is beautiful and shiny. She lives for the light. The subtext is the made-up surface belying what exists beneath and the commentary of truth beyond what's advertised.
She is a 2015 Stranger Genius Award winner, Velocity Dance Center's 2014 Artist in Residence, and 2010 Spotlight Award winner. Her choreography has been presented by every major contemporary dance venue in Seattle. Jody received a National Dance Project Production Grant for a new work that will premiere in Seattle 2016/17 seasons at On the Boards and Velocity Dance Center and will tour the US. Jody has worked with Dayna Hanson as Production Coordinator and Assistant Director for various projects. She has been a company member of Mark Haim and Pat Graney since 2008 also assisting Graney's KTF Prison Project in 2007.  As Cherdonna, she currently performs regularly with drag-queen superstar BenDeLaCreme (RuPaul's Drag Race); and the award-winning international sensations Kitten LaRue and Lou Henry Hoover.  Kuehner teaches Professional Contemporary Dance at Velocity, has taught at summer intensives Strictly Seattle and Seattle Festival of Dance Improvisation.  She is Resident Choreographer for the LGBTQ youth choir Diverse Harmony, and has developed a Drag You workshop which she has taught nationally for movers of all backgrounds and abilities.
PERFORMANCE SYNOPSIS
A one-of-a-kind dance/theater spectacular by Seattle's incomparable drag-clown phenomenon. Drawing on Carl Sagan's series Cosmos and female icons Kate Bush and Diane Keaton– Worth My Salt looks at the timely theme of gender inequity through the lens of an existential crisis. How do we prove our worth? How do we feel worthy? Cherdonna's unique vision brings together dance and drag with clowning's ability to tug on heartstrings, cabaret's warm intimacy, and performances' ability to shatter taboos to make sharp social commentary.
WATCH OUR VIDEO TRAILER FOR WORTH MY SALT
VIDEO VAULT: WATCH CHERDONNA AND LOU'S IT'S A SALON!
READ: "The Inexplicable, Fascinating Cherdonna Shinatra, the Drag Queen Who's Not a Drag Queen." Christopher Frizzelle, The Stranger. September 10, 2014.
READ: "A Fiendish Conversation with Jody Kuehner (Cherdonna Shinatra)". Seth Sommerfeld, Seattle Met. October 13, 2014. 
READ/VIEW: "Cherdonna Was Not Photoshopped Falling into That Swimming Pool—She Really Fell In!" Kelly O, The Stranger Slog. September 11, 2014.
READ: "The Perverse, Psychedelic Vulnerability of Cherdonna Shinatra". Brendan Kiley, The Stranger. October 22, 2014
READ: "'Do You Think This is Easy for Me' asks Cherdonna Shinatra". Melody Datz Hansen, Seattle Dances. October 22, 2014