Body Home Fat Dance (Portland, OR): Weighted Bodies
dance/movement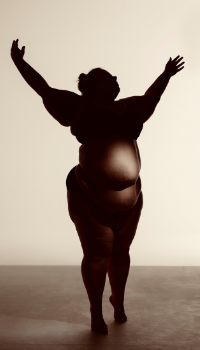 Body Home Fat Dance sells out. We're serious. This new and highly-desired dance company has been making waves in Portland over the last few months. Risk/Reward is proud and PUMPED about the debut of their newest performance, Weighted Bodies.
PERFORMANCE SYNOPSIS
Body Home Fat Dance's work is building a new vocabulary of movement—one that feels expressive, accessible, and unique to fat bodies. This movement vocabulary highlights and celebrates jiggles, ripples, folds, mass, and softness—codifying in movement the multidimensional meanings of fat in motion. Through deeply curious exploration—how light and shadow enhance texture and shape, how the momentum of mass creates risk and adventure, how fat intensifies the reverberation of movement—BHFD reclaims the narrative of our bodies and reshape the audience's conception of fatness.
Weighted Bodies is an exploration of the artistic and emotive possibilities of movement and dance in fat bodies. When dancers in non-conforming bodies occupy a stage, the narrative is often "I can do this even though I'm fat." Instead, we are exploring the narrative of "I can do this BECAUSE I'm fat."
BIO
Body Home Fat Dance is a fat-celebrating dance collaboration. Our goal is to inspire joyful movement, connection with our bodies, and creative expression, while honoring our unique abilities and challenges with self-compassion. More than just dance classes, we're co-creating a resilient community, building an empowering and nuanced dialogue about fat liberation, and connecting with our own embodied selves. We invite folks with all levels of experience, all bodies, all abilities, all genders to come dance with us!
KT Kusmaul is a fat, queer, white, able-bodied, genderqueer femme performance artist and community builder. She is the founder of Body Home Fat Dance. What started as a drop-in dance class for larger-bodies folks looking for a safe space to move together has grown into weekly sold-out classes, presenting at conferences, organizing workshops, mentoring of new teachers, and the development of a performance company. As Body Home Fat Dance evolves, KT's aim is to increase connection, representation, and opportunity for movement work within this underrepresented group of fat-bodied dancers. Throughout the past 2 decades, KT has created radical gender-based performance in Portland's queer community, including drag, music videos, and dance—all within a deeply collaborative, community-embedded framework. Performance and choreography credits include DKPDX, Homomentum, Untrained I, Cattitude, A Queer for All Seasons, International Drag King Community Extravaganza, and music videos for Athens Boys Choir and Scream Club.
BODY HOME FAT DANCE'S CLASS SCHEDULE
BUY TICKETS TO THIS YEAR'S FESTIVAL